The Coasters return to action, three days after their last 1-0 win away from home at Gateshead.
AFC Fylde will be visiting The Citadel to face Farsley Celtic for the Third Qualifying Round of the FA Cup, hoping to progress to the next round with a win from this 7:45pm kick off. 
History
The West Yorkshire club was established in 1908 as Farsley Football Club playing in Leeds's amateur leagues. 1926 saw Farsley FC joining the West Riding County Amateur League, and in 1949 they moved on to the Division Two of the Yorkshire League. This was a successful move as they won the Division in 1951/52 and earned promotion to the Division One. Farsley achieved further success in this Division, winning the League in 1959/60 and 1968/69, and achieved several top 7 finishes throughout the 1960's before being relegated back to Division Two at the end of the 1977/78 season. The 1974/75 season also saw The Celt Army reach the First Round of the FA Cup for the first time, losing 2-0 to Third Division Tranmere Rovers in a match that had to be moved to Elland Road to accommodate the record 11,000 in attendance.
In 1982, the Yorkshire League merged with the Midland League to form the Northern Counties East League with Farsley joining the Division One North where they remained until winning it in 1984/85 to progress to the Premier Division. 1986/87 saw Farsley achieve promotion to the Division One of the Northern Premier League where the club remained for 17 seasons until achieving promotion through a third-place finish at the end of the 2003/04 season to the Premier Division. 
Their first Northern Premier League Premier Division season ended in controversy, as Spennymoor Town failed to fulfil their fixtures, folding the League with their results being expunged. This left The Celt Army as champions, but The FA over-ruled the League awarding three points to all clubs that had not played Spennymoor meaning that both Workington, and Hyde United moved above Farsley. 2005/06 would see Farsley finally achieve promotion to the Conference North through the play-offs, and The Celt Army then went on to earn back to back promotions to the Conference National. However, Farsley was then relegated back to the Conference North and financial problems led to the club being expelled from the league prior to 2009/10 – being readmitted soon after, before going into administration and disbanding in March 2010. 
A new era began as the club was reformed as Farsley A.F.C. and joined the Premier Division of the NCEL again for the 2010/11 season. They won in their first season and returned to the Northern Premier League and in 2015, returned to the name of Farsley Celtic. The Celt Army is now back in the National League North, after promotions at the end of the 2016/17 and 2018/19 seasons. Paul Barthorpe has also taken over the club in 2019, changing their playing colours from blue to green, adopting a new badge and renaming the ground. 
The Manager – Adam Lakeland
Adam Lakeland has managed The Celt Army since being appointed during May 2017. He joined Farsley after a break from football, despite having a very successful track record of the level of football Farsley were playing at the time which Lakeland brought further success to whilst leading the club. 
Starting as a coach at the age of 17, Lakeland now holds a UEFA A licence who has gathered a good amount of successful experiences in English non-league. Starting his senior coaching career as a first team coach at Curzon Ashton, he achieved a promotion to the National League North in just two seasons before moving on to work with Blackburn Rovers' academy for a year. 
Lakeland then took his first stem as a manager joining Northwich Victoria, guiding them to the Northern Premier League Division One play-offs despite the club suffering a nine-point deduction. He was then forced to resign due to The Vics' financial troubles, taking a break before taking over The Celt Army. 
His first season in charge of Farsley saw Lakeland lead the Celts to a West Riding County FA Cup, as well as Northern Premier League championship in the following 2018/19 season meaning the club would now move on to the National League North. 
2019/20 saw Lakeland's Celts place 11th in the National League North – achieving 14 wins, 6 draws and losing 14 times. 
The Captain – Daniel Ellis
Danny Ellis has been with The Celt Army since joining prior to the 2017/18 season, signing for the club after choosing to depart from Harrogate Town after Town decided to go full-time. The hard-hitting defender started his career with now League Two side Bradford City, before joining Guiseley AFC in 2005. 
Ellis was a fan favourite at Guiseley having spent 10 seasons with the club as a player before departing to join Harrogate Town. At Guiseley, Ellis also held roles as an Academy coach as well as coaching for the Community Foundation partaking in coaching behind the closed doors of Wetherby Young Offenders Institute on behalf of Guiseley. 
The defender holds a UEFA A Coaching Licence, and as a player he has earned a reputation for himself as a footballer that will put everything into every game in order to win at all costs. 
Scout Report
1 Steven Drench
2 Jordan Richards
6 Adam Clayton
5 Daniel Ellis ©
4 Tom Allan
3 Joe West
8 Chris Atkinson
7 Joel Byrom
11 Will Hayhurst
10 Tyler Walton
9 Jimmy Spencer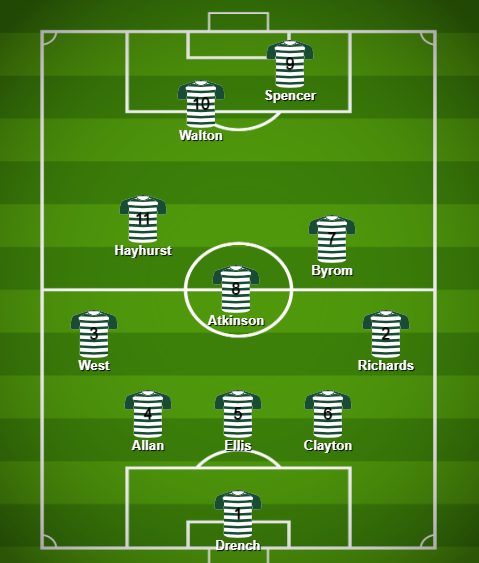 The Celt Army's last FA Cup outing saw them defeating Radcliffe FC at home in a 2-1 win for Farsley – as for their National League North campaign, they are yet to secure their first win.
Farsley lost their National League North opener to Spennymoor Town in a 2-1 away defeat, even though this was in controversial fashion after having a goal chalked off for an infringement as well as after having penalty shouts ignored due a Spennymoor handball. However, they've started their FA Cup campaign positively and will be looking to continue it in such manner when going up against The Coasters later. In contrast, Fylde are still undefeated in official matches having beat Hyde United in their first FA Cup match as well as now besting Darlington and Gateshead for the league. 
Farsley's 2019/20 FA Cup run ended in the current round, with The Celt Army suffering a 5-0 defeat at home to Southport FC. This will be a record that Farsley will be desperate to right this season, and The Coasters should be expecting Lakeland's side to be motivated for this match. Since 2015/16, Farsley are yet to surpass the Third Qualifying Round which will definitely be the goal for tomorrow. 
The last time Fylde and Farsley have faced each other dates all the way to the 2010/11 Northern Premier League Division One. The two matches that happened this season where the only times the two sides have ever gone up against each other, with the history favouring Farsley Celtic after The Celt Army beat Fylde 2-0 at home before holding The Coasters out for a 2-2 draw away from home. 
Lakeland's 11 is predicted to be somewhat unchanged from their last fixture against York City at The Citadel, although this could be depending on a few factors such as the possibility that Will Hayhurst could still be out due to injury after coming off in the 41st minute against Spennymoor Town. 
In goal, we should see experienced shot stopper Steven Drench. In front of him, we could be seeing a three centre back system featuring Adam Clayton who's been with the club since October 2015, the hard-hitting captain Daniel Ellis and Tom Allan. Allan has signed for Farsley on a permanent basis this past summer after his release from York City, and standing at 6ft 5in, he will be an imposing presence in Farsley's defence. 
The Celt Army should be featuring two energetic wing backs in the form of ex-Coaster Jordan Richards on the right side, and Sheffield Wednesday youth academy product Joe West. West has the ability to cross with pinpoint accuracy from the left side, which caused some trouble to Spennymoor's defence in their last fixture. 
Farsley's midfield is expected to feature Huddersfield Town academy product Chris Atkinson, who's been an integral part of The Celt Army for the last few seasons, as well as new signing Joel Byrom who's joined Farsley Celtic from League Two side Stevenage FC. Byrom has amassed 246 Football League appearances and can be considered a real coup of a signing for this season. If Will Hayhurst is recovered, we could very well see him complete the midfield as his set pieces are one of Farsley's threats due to his strength in this part of the game.
 If Hayhurst plays, former Leeds United and Manchester City Tyler Walton could start just ahead of the rest of the midfield, although if Hayhurst is still out Walton could feature behind leaving space for Welsh youth international Jake Charles or young forward Luke Parkin. Jimmy Spencer is expected to be the starting striker for Farsley. 
One to Watch
The striker Jimmy Spencer has been a key man for The Celt Army since joining the club prior to the start of the 2018/19 campaign. He contributed massively to the club's automatic promotion from the Northern Premier League Premier Division as well as in the club's 2019 Northern Premier League Cup run to the final. The 2018/19 season also saw Spencer being voted Northern Premier League Player of the Year showing his influence and contribution to The Celt Army, which has now been rewarded with a long-term contract with the club. ´
The 28-year-old forward started his career with the now Championship side Huddersfield Town in 1998 at the age of seven. He signed as a professional with the club, and experienced several loans to the likes of Northwich Victoria, Morecambe, Cheltenham Town, Brentford, Crawley Town and Scunthorpe United. He made his Huddersfield debut in the League Cup First Round 2-0 away defeat to Preston North End, and made his league debut in a 1-0 defeat to Cardiff City in 2012. 
Spencer then moved on to League One side Notts County after having his contract with Huddersfield terminated. He made 29 appearances for Notts County between 2013 and January 2016, before moving on to Cambridge United where he scored with his first touch of the ball for The U's. He spent half a season with United before joining Plymouth Argyle where he turned out 25 times in League Two and scored 3 goals. He spent the 2017/18 season with Mansfield Town before finally settling with Farsley Celtic. 
The striker has been considered a major player for The Celt Army ever since joining, being complimented for his passion and attitude which he demonstrates every time he's on the pitch. His energy up front makes Spencer a constant threat for defences, so it'll be worth keeping an eye out for him in this match as Farsley's one to watch.