Dai Davis
President
Dai's association started with the club as a Player when the club began as Kirkham in the 60's. After his long association as a player and stints living abroad he returned to the club in 1993 when he became Chairman. Since that time Dai orcherstrated the rise of Kirkham and Wesham FC. Success soon followed and with his significant financial support combined with the appointment of Mick Fuller together they enjoyed year on year success winning West Lancashire League titles, League cups, LFA Cups and competitions through the 90's. Davis backed the move to Kellamergh Park in 2006 when he was joined by good friend and successful businessman David Haythornthwaite and together they kickstarted the club's transition to AFC Fylde and subsequent move up the non league football pyramid from Step 7 to Step 4 in 3 Seasons. The pinnacle of his reign as Chairman has to be Kirkham and Wesham's finest hour in May 2008 winning the FA Vase a proud moment for long standing Chairman. Roles were reversed with David Haythornthwaite in summer of 2011. 
Since 2011, Dai has been an active member of AFC Fylde and is the Club President. 
David Haythornthwaite
Chairman
Club Chairman David Haythornthwaite, good friend of President Dai Davis, is a successful local businessman and Chairman of the Tangerine Group. His first involvement with the club came as Main Sponsor Vetplus in 2006 and his involvement grew into the development of a new era of AFC Fylde which kicked in after the club's greatest day as Kirkham and Wesham Football Club winning the FA Vase at Wembley. He brings ambition, drive and professionalism to the club in it's long term bid to be in the Football League by 2022. With David's investment and sponsorship the club have gone on from strength to strength and the club's development since his involvement has taken the club to the next level. Roles were reversed with Dai Davis in the summer of 2011.
David has overseen the rise through the leagues as Chairman and has invested wisely in all areas of the club, including the Mill Farm project.
Neil Joy
Chief Executive
Neil Joy was appointed Chief Executive of AFC Fylde in October 2016.
Neil brings a wealth of experience with him having been Chief Executive and Football Secretary at Oldham Athletic for four years where he did a fantastic job helping Oldham retain their League One status with limited resources.
Commenting on the appointment AFC Fylde Chairman David Haythornthwaite said: "Neil has a wealth of experience and he has been involved with Oldham for many years. Not only does he know how to run a football club but importantly how to run one where every pound is maximised and costs controlled."
Bevan Middleton
Food & Beverage Manager
Bevan joined the club as Food & Beverage Manager from Ribby Hall. An award-winning operator, Bevan has spent three decades in the hospitality and catering industry working at all levels at 4/5 star hotels, cruise liners and Michelin star restaurants.
Daniel Agnew
Head of Media
Daniel Agnew has a wealth of experience in the football industry, having spent 10 years working in the press department at Blackburn Rovers.
Rovers spent much of that time as a top ten Premier League side and Daniel is keen to draw on that knowledge to help guide the Coasters in the right direction with exciting times ahead.
The club had been keen to add some experience to the media team – particularly with the new stadium at Mill Farm getting closer to completion – and saw Daniel as the right man for the job.
Stuart King
Finance Director
Stuart King manages the financial aspects of AFC Fylde. A qualified Accountant, Stuart provides the Directors with all financial details of the day to day running of the football club. Stuart is the Financial Director for Tangerine Group of companies owned by the Chairman.
David Broadbent
Commercial Manager
David joined the club from Championship side Huddersfield Town, where he held the position of Commercial Manager for Advertising and Events.
Prior to his role with the Terriers, David worked as Commercial Manager at Tranmere Rovers and as Head of Partnerships at Oldham Athletic and boasts over 10 years experience in football.
David will be responsible for all the commercial elements of the football club, from matchday sponsorships to programme and perimeter advertising right the way through to stadium naming rights and shirt sponsorship.
Dave Challinor
1st Team Manager
Dave became the manager of AFC Fylde in November 2011, joining from Colwyn Bay.
The former Tranmere Rovers, Stockport County and Bury central defender made over 400 appearances as a professional before a spell in non-league as a player with Colwyn Bay before being given the managerial vacancy replacing Neil Young after captaining his side to promotion from Evo-Stik North to Evo-Stik Premier in 2010. He then successfully guided Bay to promotion to Blue Square North in his first season and showed his managerial credentials in his first season beating FC United in the play-off Final in May 2011.
He won the Championship in his first season with AFC Fylde clinching Evo-Stik North title against Salford City – a fantastic achievement considering the team was 16 points off the leaders when he joined the club. In the 2012-13 season, the first year that The Coasters had played at Evo-Stik Premier level, Chally guided Fylde to a fifth place finish which meant The Coasters would play Hednesford Town in the play-off semi-final which was a great achievement in their first year in that division. Unfortunately the game was lost, but that only spurred Fylde on.
The following year, 2013-14, Fylde finished in third place and were just four points off the top at the end of the season. Challinor guided the side through the play-off system to defeat both Worksop Town and then Ashton United in the final at Kellamergh Park to achieve promotion to the Conference North for the first time in the clubs history. This was a monumental achievement.
The Conference North season started very well, with Fylde occupying a top five place from September onwards and another good F.A. Cup run followed, before a First Round defeat to League Two Plymouth Argyle. The Coasters had another top five finish in the league as they finished second, something that Challinor has achieved in every season he has been manager of AFC Fylde. Unfortunately, Fylde lost in the play-off semi-final to Guiseley but the 2015-16 season is a new chance for Challinor and his players to achieve their promotion dream.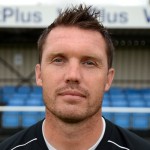 Colin Woodthorpe
Assistant Manager
Colin joined the club as Assistant to Dave Challinor in November 2011. He is Challinor's right hand man and was his No 2 at Colwyn Bay where he supported Challinor all the way through their promotion success as his trusted assistant. Woodthorpe has a distinguished playing career with Chester, Norwich, Aberdeen, Stockport and Bury amassing over 800 appearances as a professional. The former full back has passed on his vast experience to the squad and is a valued assistant by Challinor as they continue to enjoy success together as a management team securing another title in May 2012.
In the 2012-13 season, the first year that The Coasters had played at Evo-Stik Premier level, Colin aided Challinor in guideding Fylde to a fifth place finish but unfortunately the play-off semi-final game was lost. However, the following year, 2013-14, Fylde finished in third place and were just four points off the top at the end of the season. Colin helped to guide the side through the play-off system to defeat both Worksop Town and then Ashton United in the final at Kellamergh Park to achieve promotion to the Conference North for the first time in the clubs history. 
The Coasters finished second in the Conference North which meant another top five finish in the league, something that Challinor and Woodthorpe have achieved together in every season they have been at AFC Fylde. Unfortunately, Fylde lost in the play-off semi-final to Guiseley but the 2015-16 season is a new chance for Challinor, Woodthorpe and the squad to achieve their promotion dream.
Bob Davey
Match Day Secretary
Bob has had a long association with the Club and was rewarded with a long service award in July 2009 from the Lancashire Football Association recognising his services to football. Bob has also performed various roles at the club including catering, ground improvements and Club Secretary culminating in a busy season in the FA Vase in 2008 before taking the Match Day Secretary role this season. He is also the Development Officer for the West Lancashire Football League. Bob still spends much of his spare time down at Kellamergh Park providing assistance with our ongoing ground developments.
His day to day jobs include making sure the match-day team sheet is completed on time as well as timekeeper. He is a well respected member within the A.F.C. Fylde community.
Stephen Jackson
Physio
Steve joined the club at the start of the 2013/14 season and covers all First Team and Development Squad matches as the club's designated physio.  Learned his trade at Edge Hill University he is still young and AFC Fylde gives him the perfect opportunity to potentially further his career.  Tends to suffer a lot of banter from the players in the dressing room, usually for his choice of boots and trainers that he wears.
Keith Wilding
Stadium Manager
Keith's involvement began as an 18-year-old in 1975 when Kirkham Town played at Weeton army camp. Keith played for 20 seasons until 1995/96 season when he hung up his boots at 38. 
Keith played over 650 games, the most impressive of which coming during the 1985/86 season when Kirkham Town won promotion to West Lancs Premier Division, whilst also lifting the League Cup and the Lancashire Junior Shield. He was voted Player of the Year that campaign and also picked up the club's Top Goalscorer accolade.
Since then, Keith has held the posts of Club Secretary, committee member and spent a couple of seasons as player/ manager in K&W Reserves. He was also part of the merger between Kirkham Town and Wesham FC in 1988.
Since the switch to AFC Fylde, Keith started as kit man and is now Stadium Manager at Kellamergh Park and Matchday Tunnel Supervisor at Mill Farm.
Daniel Bunce
Groundsman
Daniel joined the club in February 2013 and helped out for the remainder of the season. Due to the previous groundsman leaving, Daniel was offered to take the role permanently and did a great job in the 2013/14 season culminating in him being nominated for groundsman of the year.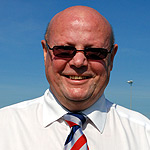 Eric Picton
Club Welfare Officer
Involved with Wesham, then Kirkham & Wesham and finally with AFC Fylde for almost forty years. Performed every office you can thing of and currently Chairman of the Trustees for the Community Foundation and Club Welfare Officer.
Tom Hutton
Director of AFC Fylde Community Foundation
Tom joined the club in November 2012 as the Club's first full time Community Officer. He worked as a Sports Development Coach for YMCA as a teenager and has a wealth of contacts and experience in delivering multisport sessions in schools all over the Fylde Borough. He is also a qualified referee. He now heads up the Community Foundation which involves co-ordinating a group of coaches and working with local community groups and primary schools in order to deliver a fantastic sports programme for young people across the Fylde Coast. The Community Foundation team can be seen on a match days.